Special Offers & News
LUNCH MENU - TWO COURSES £13.50 & THREE COURSES £17.50
+
-
SOUP OF THE DAY, freshly prepared.
TOMATO AND BASIL BRUSCHETTA, balsamic glaze.
MUSHROOMS AND SPINACH RAGOUT, baked focaccia truffle oil.
BAKED SMOKED MOZZARELLA, wrapped in pancetta, mixed salad.
HAND SLICED SMOKED SALMON, poached egg dill creme fraiche £4 supplement.
SAUTEED MANX QUEENIES, smoked pancetta garlic white wine cream £4 supplement.

MAIN COURSES

FRESH PAPPARDELLE PASTA, fresh queenies sundried tomatoes pesto.
ENZO'S HOUSE SALAD, chicken marinated olives parma ham roasted cherry tomatoes rocket and mixed salad leaves oil dressing toasted ciabatta.
CHICKEN PARMIGIANA, tomato basil grilled aubergine.
KING PRAWNS, tempura batter citrus aioli home cut chips.
PAN FRIED SEABASS, garlic and samphire cream olive oil mash potatoes £7 supplement.
MANX SIRLOIN OF BEEF, roasted vine tomatoe peppercorn and brandy £7 supplement.

Main courses are served with market fresh vegetables and potatoes.
Ready to Book a table
Enzo's Restaurant
Douglas, 52 Bucks Road
Cuisine Style:
Italian, International
Price:
Under £15.00
Opening Times:
Mon
12:00–14:30, 18:30–21:30
Tue
12:00–14:30, 18:30–21:30
Wed
12:00–14:30, 18:30–21:30
Thu
12:00–14:30, 18:30–21:30
Fri
12:00–14:30, 18:30–21:30
Sat
18:30–21:30
User ratings:

3 0 0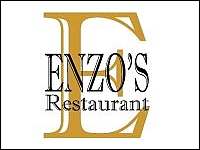 Open for lunch and dinner, Enzo's Restaurant offers modern international cuisine with an Italian twist... A Creative menu with a complimenting wine list and selection of specials.
Enzo and the team welcome you into their cosy relaxed atmosphere at Bucks Road Douglas.
STARTERS
SOUP OF THE DAY FRESHLY PREPARED
£5.00
HAND SLICED LOCAL SMOKED SALMON DILL CRÈME FRAICHE , CAPERS
£9.00
CALAMARI FRITTI, CITRUS AIOLI
£7.50
SAUTEED MANX QUEENIES SMOKED PANCETTA GARLIC CREAM WHITE WINE
£8.50
BEEF CARPACCIO DRESSED ROCKET PARMESAN SHAVINGS
£9.50
PORK AND APPLE TERRINE HOMEMADE PICCALILLI TOASTED CIABATTA
£7.50
HOMEMADE MEATBALLS TOMATO AND BASIL SAUCE FRESH FOCACCIA
£7.50
BAKED AUBERGINE PARMIGIANA
£7.00
PASTA AND RISOTTO
HOMEMADE CRAB AND LOBSTER RAVIOLI THERMIDOR SAUCE (only as main)
£18.50
PAPARDELLE ALLA NORMA AUBERGINE TOMATO AND BASIL - Starter £8
£14.00
PENNE AND MEATBALLS GARLIC AND CHILLIES - Starter £8
£14.00
CRAB KING PRAWNS AND SAMPHIRE RISOTTO - Starter £9
£17.00
ASPARAGUS PEAS AND SPINACH RISOTTO - Starter £8
£14.00
MAINS
PAN FRIED SEA BASS, ROASTED VINE CHERRY TOMATOES, BASIL PESTO AND SAUTEED POTATOES
£18.50
PINE NUT CRUSTED FRESH COD, PECORINO MASH POTATO AND A WHITE WINE BUTTER SAUCE
£21.50
PARMA HAM WRAPPED SPINACH AND RICOTTA STUFFED CHICKEN BREAST, GARLIC AND PARSLEY CREAM, CHIVE MASH POTATO
£16.50
PAN FRIED CALVES LIVER, BALSAMIC ROASTED SHALLOTS, CRISPY PANCETTA, PAN JUS
£16.50
SIRLOIN STEAK TAGLIATA, SPINACH ROCKET AND ROASTED CHERRY TOMATO SALAD BALSAMIC OIL
£21.50
SIRLOIN STEAK PEPPERCORNS,BRANDY,CREAM HOME CUT CHIPS
£22.50
RACK OF MANX LAMB, BOULANGERE POTATOES, THYME JUS
£21.50
DEEP FRIED PARMESAN POLENTA, GARLIC AND HERB ROASTED VEGETABLES, SUNDRIED TOMATO PESTO
£16.00
MAIN COURSE ARE SERVED WITH PANACHE OF MARKET VEGETABLES AND POTATOES
SIDE DISHES
HAND CUT CHIPS
£3.00
OLIVE OIL MASH
£3.00
ZUCCHINE FRITTE
£3.50
WILTED FRESH SPINACH
£4.50
BUTTERED ASPARAGUS
£4.50
MIXED SALADS
£3.50
ROCKET AND PARMESAN SHAVINGS
£3.50
DESSERTS
CONTINENTAL AND MANX CHEESE PLATTER, CELERY, GRAPES, BISCUIT, HOMEMADE CHUTNEY
£8.50
TRADITIONAL VANILLA CRÈME BRULEE, HOMEMADE SHORTBREAD
£6.00
FRESH FRUIT PAVLOVA
£6.00
WARM HOMEMADE CHOCOLATE SPONGE, RICH BELGIAN CHOCOLATE SAUCE AND VANILLA ICE CREAM
£6.00
LEMON PANNACOTA
£6.00
HOMEMADE VANILLA ICE CREAM, STRAWBERRY SAUCE, PRALINE SPRINKLES
£6.00
WE HAVE A SELECTION OF DESSERT WINES AND PORT AVAILABLE FROM OUR WINE LIST
COFFEE
ESPRESSO
£2.50
AMERICANO
£2.50
CAPPUCINO
£3.00
LATTE
£3.00
LIQUOR COFFEE - FROM £
£5.50
WINE LIST
House Selection
WHITE
Sauvignon Cote de Gasgogne Plaimont - France - Glass 175ml £5
£16.00
Pinot Grigio Sicilia Botter IGT - Italy - Glass 175ml £5.25
£17.00
Passo del Tempio Catarratto IGT Terre di Sicilia - Italy - Glass 175ml £5.50
£18.00
ROSE
Botter IGT Sicilia Pinot Grigio Rosato - Italy - Glass 175ml £5.50
£18.00
RED
Merlot Tannat Cote de Gasgogne Plaimont - France - Glass 175ml £5
£16.00
Botter Senso Sangiovese - Italy - Glass 175ml £5.25
£17.00
SPARKLING WINES AND CHAMPAGNES
Prosecco Superiore DOCG Conegliano e Valdobbiadene Ca' Morlin - Glass £8
£32.00
Baron Beaupre Brut NV - Glass £9.50
£36.00
Baron de Beaupre Rose Brut NV - A beautifully balanced rose with delicate flavours of red fruits and a fresh clean finish.
£45.00
Veuve Clicquot Brut NV - Excellent biscuity finesse on the nose & palate with a long, fruity aftertaste.
£70.00
Bollinger Special Cuvee Brut NV - The dominance of the Pinot Noir grape gives Bollinger its distinctive full, rich style.
£75.00
WHITE WINES
Macon Bussieres Domaine Gonon - France 2009. Delicious aromas of grapefruit and citrus, with a clean persistent finish.
£22.00
Sancerre Domaine de Brosses - France 2011. Richly textured, the fresh, citrus palate has herbaceous notes of hay and nettle.
£32.00
Chablis 1er Cru Vau de Vey Domaine des Malandes - France 2010/11. Steely minerality with hints of honey and beeswax supported by hazelnut and vanilla.
£34.00
Grillo Feudo Arancio - Italy 2011. Fresh apple and pear aromas follow through to a medium body with good fruit and a clean finish.
£22.00
Gavi Terre del Barolo - Italy 2012. A crisp, dry white; light and elegant with a long, slightly nutty finish.
£24.00
Fairview Viognier - South Africa 2011. A rich, well balanced palate with gentle integrated oak and ripe stone fruit flavours.
£28.00
Grove Mill Sauvignon Blanc - New Zealand 2011. Packed with tropical fruit, citrus, gooseberry and typical Marlborough herbaceousness.
£26.00
RED WINES
Morgon "Domaine Descombes" Georges Duboeuf - France 2011. A lush cascade of soft red cherry fruit framed by supple tannins.
£30.00
Chateau Jean Voisin Faguoet St Emilion Grand Cru - France 2008/9. Ripe and velvety texture, classic plum fruit is interspersed with spicy berry characters.
£30.00
Cote de Beaune Villages Maison Faiveley - France 2010. Beautiful fresh red-fruit aromas, upfront fruit flavours and balanced tannins on the finish.
£32.00
Châteauneuf du Pape Rèserve des Argentiers - France. Complex bouquet with black fruits, hints of spice and a rounded, soft palate.
£42.00
Chateau Batailley Pauillac - France 2004/6. Elegant black fruit and truffle flavours with notes of cigar box, pepper and spices lead to hints of liquorice and earth on the finish.
£65.00
Nero d'Avola Feudo Arancio - Italy 2011. An intense Sicilian red with characteristic notes of wild strawberry, cranberry and morello cherries.
£22.00
Barolo Terre del Barolo - Italy 2008. Intense aromas of red berries, a little truffle and cedar, with a classic tannic finish.
£40.00
Amarone della Valpolicella Torre del Falasco - Italy 2008. Long and spicy to the finish, with a bitter cherry-chocolate twist characteristic of good Amarone.
£55.00
Brunello di Montalcino Fossacolle - Italy 2008. This Brunello bursts onto the palate with waves of dark red fruit and a soft, voluptuous texture.
£75.00
Izadi Reserva Rioja Alavesa - Spain 2008. Rich aromatic intensity with a nice balance of red fruit, liquorice and spices and smoked hints.
£28.00
Spier Signature Shiraz - South Africa 2011. A velvety smooth and creamy palate rewards with generous layers of spicy fruit.
£20.00
Jargon Pinot Noir Trinchero Estate - California 2010. Bright and seductive flavours of black cherry with a hint of strawberries and a smooth silky texture.
£26.00
Norton La Colonia Malbec - Argentina 2012. Glass-coating purple colour with a striking perfume of violets, black cherry, and black raspberry.
£20.00
Norton La Colonia Malbec - Argentina 2012. Glass-coating purple colour with a striking perfume of violets, black cherry, and black raspberry.
£20.00
DESSERT WINES
Chateau La Chartreuse Sauternes - France 2006. Concentrated aromas and flavours of peach, apricot and honey, with a lush and lingering finish. 37.5cl
£30.00
Brown Brothers Orange Muscat & Flora - Australia 2011. Fragrant orange blossom and big flavours of honeyed apricot, orange and lime. 375ml
£18.00
A Mano Aleatico di Puglia Passito - Italy 2009. Red rose petals and dried cherries giving way to a dark, black cherry and spice character. 50cl
£36.00
Fabulous food, service and staff, we will be back again and cannot recommend Enzos highly enough. Thank you for a lovely evening.
First time we have eaten at Enzo's - definitely not the last. Great food and service - one of the best on the island. Everything cooked freshly to order and using great ingredients - and some top wines too.
Thanks for looking after us so well.
Visited Enzo's for the first time yesterday following recommendations. I am so pleased that we did. We normally struggle to find anywhere we would return to but straightaway this had the vote of confidence from us.
We were greeted warmly and shown to a very nice table. The atmosphere inside is intimate but friendly. Only a small restaurant but beautifully turned out. All the tables became occupied as the evening went on, which speaks volumes.
The food was Italian in the main but there was plenty of choice for everyone on the menu and we chose the salmon and steak for our main courses. The staff were attentive but not obtrusive and the meal courses were served at just the right tempo.
We felt welcome and valued as customers and I would highly recommend this restaurant to anyone looking for somewhere special but not stuffy.
We will definitely be booking another visit.