Special Offers & News
Ready to Book a table
The Tickethall
Douglas, Douglas Steam Railway Station, North Quay
Cuisine Style:
Traditional English, Seafood, Manx
Price:
Under £15.00
Opening Times:
Sun
08:00–16:00
Mon
08:00–18:00
Tue
08:00–18:00
Wed
08:00–18:00
Thu
08:00–18:00
Fri
08:00–22:00
Sat
08:00–22:00
User ratings: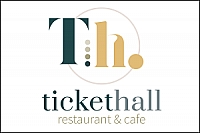 more...
Welcome to The Tickethall. We are a relaxed restaurant located at Douglas Steam Railway Station, North Quay in Douglas on the Isle of Man. Offering great vegetarian and seafood options, along with locally sourced quality meat dishes. Try our renowned 'Fireman's Breakfast' the heartiest breakfast and great value for money. Why not make a stop off and give us a try.
After returning to the Isle of Man in late 2010 Steve Quirke has spent the last year establishing The Mailbox as a successful and popular restaurant in Douglas. He is now focusing on developing The Tickethall and events with the IOM Steam Railway.
When you visit The Tickethall, our firm belief is to focus on you - 'the customer'. We want to share our love of Isle of Man food and local produce with you, your family & colleagues so when you make a stop at The Tickethall your experience is first class!
show less